Newsletter Archive
Fine food & restaurant storytelling in all its shapes and forms:
Is now the time when we all need to have that awkward conversation – are restaurants, and indeed are you ready for significant changes for 21st Century dining.
---
#Makelifeluxe Park Chinois presents an exclusive opportunity to enjoy a £75 dining credit to experience one of London's most opulent nights out. Park Chinois
---
#Makelifeluxe New and extraordinary places to visit in the coming weeks including: Adam Handling Restaurants, Carbis Bay Estate, Cliveden House, The Pem, sketch and more
---
#Makelifeluxe Win a dream stay with Singaporean style Afternoon Tea at London's newest luxury hotel Pan Pacific London, and new club offers
---
#Makelifeluxe Luxury In-Private – Discover experiences beyond the norm including The Sloane Club, The Mandrake and more.
---
#Makelifeluxe We're one week off English Wine Week – with the best in class wines and destinations to try #EnglishSparklingWine
---
#Makelifeluxe All dressed up with somewhere to go. Discover the grandest dining room in the UK.
---
#Makelifeluxe Luxury destinations for post pandemic dining including how to supersize your spend at one of the UK's finest hotels.
---
#Makelifeluxe Celebrating greatness from gourmet joyriding and al fresco dining to stunning extra special Easter eggs.
---
#Makelifeluxe Fine dining is ab out to be restored. The green light has been given. Here's who is opening when and in what capacity for guests.
---
#Makelifeluxe Weekend delivery offers, CNY, Valentine's and other surprises for now, and when lockdown lifts.
---
#makelifelux This week we offer a sneak peek at the most anticipated hotel and restaurant openings of the year.
---
The big Christmas rethink is here for festive get-togethers with 12 bright gourmet ideas to defy winter blues #makelifeluxe
---
With the Christmas countdown well underway, this week brings our recommendation of where best to enjoy in leading five star locations around the country from 3rd to 24th December, plus with special treats for members.
---
New openings, new awards, new offers and something to fill the void of Theatres and find your festive spirit.
---
Keep calm, act sensibly, and we can all carry on and have fun. Here's how to ensure you get the best seat in any restaurant with 6 chef's tables from Gordon Ramsay.
#Makelifeluxe Kama by Vineet presents an exclusive gift for members, The Connaught unveils its stunning new bar, The Red Room; Teddy goes on Tour to Lucknam Park and more.
---
#Makelifeluxe We unearth the best places to dine as restaurants turn themselves into garden paradises; and much more including London Fashion Week, new appointments and sad losses.
---
#Makelifeluxe Teas are taken to a whole new level by exceptional luxury brands; and creature comforts great and small in our newsletter this week.
---
#Makelifeluxe Discover why this Italian all-day dining collection is on the upward trajectory with Chucs Restaurants
---
#Makelifeluxe Enjoy a stay a cut above the rest before London returns to full throttle, including The Goring, The Lanesborough, and more.
---
#Makelifeluxe Floating restaurants; London's art scene hots up; what's after the G7 in Cornwall, and the ultimate gourmet break to Italy.
---
#Makelifeluxe The best London gourmet stays; walking lunches; new discoveries; Ireland escapes and 'Mad' afternoon teas
---
#Makelifeluxe Today, St George's Day, we revisit the great traditional British dishes that have undergone a luxury makeover at top restaurants.
---
#Makelifeluxe Viva la vista – the best outdoor spots for dining opening from 12th April 2021.
---
#Makelifeluxe Competition: Super-fresh cocktails for a mini party, delivered directly to your door by the Cocktail Market. What more could you want!
---
#Makelifeluxe with Michelin announcements 2021 and 20 great Valentine's at home ideas
---
#makelifeluxe This week we share key trends expected to shape dining out in 2021. #betterdaysahead
---
#MakeLifeLuxe Back together in time for Christmas with inspiration from The Lanesborough, Browns Hotel, The Connaught, The Spread Eagle, Cinnamon Club and The Vineyard.
---
The antidote for Covid fatigue – dine at home with sketch and beyond, virtual flight JING Tea, drinks at the Best Bar in the World at The Connaught and the Festival of Light at Quilon and Bombay Brasserie.
---
Upscale your takeaways; or tuck in to a 20-course feast; take afternoon tea to new heights; plus we'll show you how to turn a humble squash into a noble treat for Halloween.
---
Grill it and they will come to Hans' Bar & Grill, surviving lockdown with 11 Cadogan Gardens GM Ian Richardson, supporting the red alert campaign #wemakeevents and thank goodness for #NationalCurryWeek
#Bekind – 8 things all diners need to know;The Sloane Club 's a winner and has a new gift for you; Be more Bond at DUKES London; and Billesley Manor Hotel and Spa has had an amazing reboot!
---
#Makelifeluxe From uniforms made from recyclable plastic to lighting powered by deep fat fryers – meet the restaurant brands investing in a sustainable future.
---
#Makelifeluxe Afternoon Tea Week starts next week and Brown's Hotel, a Rocco Forte Hotel are celebrating with a complimentary Afternoon Tea experience throughout August for members.
---
#Makelifeluxe Experience a cookery Masterclass from Le Cordon Bleu with free competition and discover where to try some of the world's most exclusive wines.
---
#Makelifeluxe If it's worth doing, it's worth doing well. Find out how to summer with benefits in this week's newsletter.
---
#Makelifeluxe Join us on a voyage of discovery of the best new hotel, restaurant, and gastropub openings throughout the UK in 2021.
---
#Makelifeluxe 100 Luxury hotels and restaurants with electric car charging points; and other places to reconnect with luxury delights.
---
#Makelifeluxe 100 Luxury hotels and restaurants with electric car charging points; and other places to reconnect with luxury delights.
---
#Makelifeluxe The best in gourmet-gifting from treats on the day at home; picnics in gardens to gift vouchers promising designs soon. All you need for Mother's Day
---
#Makelifeluxe The vegan revolution is sweeping through French restaurants as dozens of elite establishments get set to rule suprême.
---
#Makelifeluxe How and what we'll be eating in the future from four visionaries.
---
A year in pictures is this week's round-up looking over what has been a truly extraordinary year.
---
#MakeLifeLuxe Please get booking luxury dining experiences for your well-being and gifting needs. Thank you, and happy dining as you #MakeLifeLuxe.
---
BREAKING NEWS – Valentine's moved for singles. Extraordinary FREE COMPETITION to win romantic table à deux and eligible partner + £90,000 of membership to the world's most upmarket dating club, Berkeley International. This lockdown, could you find Mr or Mrs Right?
---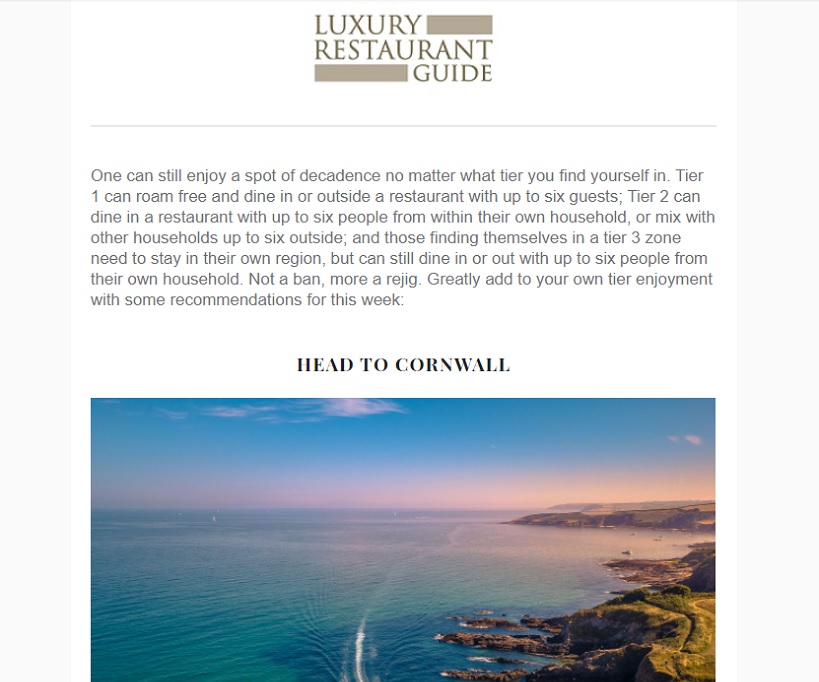 Enjoy a spot of decadence no matter what tier with The Cove Maenporth, Chucs Mayfair, Corinthia Hotel London and the latest Jolie-Pitt Champagne, Fleur De Miravale.
---
Leading restaurants adapt to the new rules with some all day treats, splendid isolation both town and country with gourmet stays and bringing back the ultimate roast dinner.
---
Dining inspiration including the return of the greats such as Alain Ducasse at The Dorchester and Marcus Wareing.
---
Discover our new website with the finest cafe from Harrods, innovative ways to safe dining at sketch London how to save more that EOTHO at top restaurants and whats new at The Dorchester and 45 Park Lane.
---
We are delighted to announce the launch of our new website. With a host of new features, you'll feel like you are actually sitting at the table.
It's good to be back! With smart money saving dining tips, free gifts, summer drinks and socialising in your own private bubble. Happy Friday!
All you need to know on who's open, who's not yet and who never will plus five great French restaurants to celebrate Bastille Day.
Get a Harrods Brut NV dining experience and find out where to dine outdoors right now, plus Covid updates.
Stay inform on when all the UK's Michelin-starred restaurants are reopening.
Stay informed on when all London's Michelin-starred restaurants are reopening..
Have you got the balance right? Nutrition and Lifestyle Louise Parker @louiseparkermethod gives us some expert coaching
Celebrate Royal Ascot at Home this year with #StyledWithCare and enjoy an exceptional Picnic in the comfort of your own home from The Posh Picnic Boys.
Offering the ultimate luxury staycation ideas, suggestions for Father's Day and sensational bread delivieries. Featuring: Healing Manor – Lincolnshire; Coworth Park – Ascot and Frankonia The Bread Shop – London.
Featuring the grand opening of The Supermarket of Dreams – Holland Park W11.
Entertain Fine Dining Style at Home from 1st June 2020 with La Belle Assiette.
from: Cowley Manor – Nr. Cheltenham; The Lanesborough – London; Stapleford Park – Leicestershire; The Fish Hotel – Broadway; Foxhill Manor – Broadway.
Luxury Restaurant Guide gets ready with social distancing ideas for the future with DesignLSM and some delicious recipes from Chewton Glen – Hampshire and Adam Handling – London.
This week we spotlight some of the good deeds the hospitality industry is undertaking to support the key workers and vulnerable people during these exceptional times including: Claridge's – Mayfair, Restaurant James Sommerin – Penarth, Kym's Restaurant – City of London, Vermilion – Manchester, Oddfellows on the Park – Cheadle, Cotswold House Hotel – Chipping Campden, The White Swan Inn – Pickering.
This week we feature a selection of restaurants offering takeaway service throughout this extraordinary time including: Benares – Mayfair, Hakkasan – Mayfair, The Woolsery – Devon, Flitch of Bacon – Essex, Carters of Moseley – Birmingham, Daylesford Farm – London and The Cotswolds, The Boxing Hare – Oxfordshire, Old Downton Lodge – Shropshire, Caldesi in Campagna – Berkshire, The Crown Inn – Upton.
This week focuses on the extraordinary circumstances the world currently finds itself in and outlines how tirelessly the UK Hospitality industry is working to keep customers safe.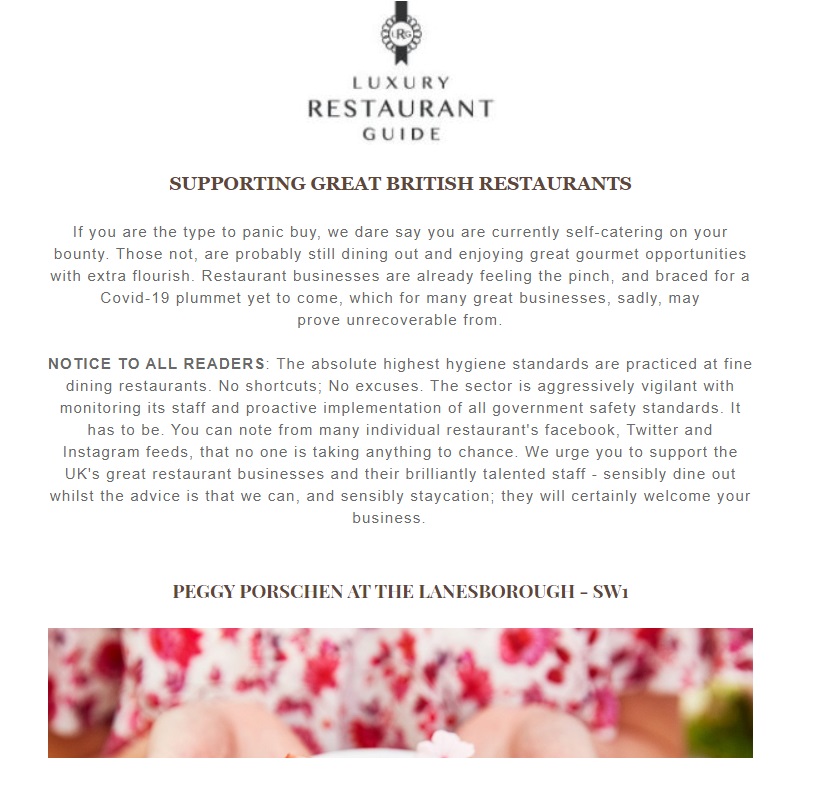 Featuring: The Lanesborough – London, Belmond Le Manoir Aux Quat'Saisons – Oxfordshire, Carters of Moseley – Birmingham, Rothay Manor – Cumbria, The Artichoke – Buckinghamshire, Hélène Darroze at The Connaught – London
Featuring: Benares – London, Paschoe House – Devon, Hurley House – Berkshire, Grantley Hall – Yorkshire, Boringdon Hall – Devon
Featuring: Browns Hotel – Mayfair, The Gilbert Scott – St Pancras, The Frog – Hoxton, William Drabble at Seven Park Place – St James's, Coworth Park – Ascot, Plu Restaurant – St Johns Wood, The Masons Arms – Knowstone
Featuring: Gordon Ramsay Restaurants – London, Belmond British Pullman – London, Roganic – Marylebone, Lympstone Manor – Devon, L'Ortolan – Berkshire, The Game Bird at The Stafford – SW1
Featuring: Petrus – Knightsbridge, Cakes & Bubbles – West End, 28-50 – Covent Garden, The Potting Shed – Broadway, The Oxford Arms – Kirtlington, The Angel – Dartmouth, Bingham Riverhouse – Richmond.
Featuring: Belmond Le Manoir Aux Quat'Saisons – Oxfordshire, Cut at 45 Park Lane – London, Kota Restaurant – Porthleven, Chewton Glen Hotel – Hampshire, Gravetye Manor – West Sussex, Sketch Gallery – London.
Featuring: The Angel Hetton – North Yorkshire, The Mirror Room at The Rosewood – London, The Nitery by Gizzi Erskine at St Martins Lane – London, The Feathered Nest – Oxfordshire, Marcus at The Berkeley – London, Charlie's at Brown's – London.
Featuring: The Greenhouse – Mayfair, Daylesford Farm – Gloucestershire, The Peat Inn – Fife, Helene Darroze at The Connaught – Mayfair, Bombay Bustle – Mayfair, 1 Lombard Street – London, Thyme – Gloucestershire.
Featuring: Lucky Cat by Gordon Ramsay – London, Inverlochy Castle Hotel & Restaurant – Fort William, Park Chinois – London, Benares – London, Game Bird at The Stafford – London, Farzi Cafe – London.
Featuring: Pacific – Mayfair, Lainston House Hotel – Nr. Winchester, Spring – Strand, The Grill at The Dorchester – Mayfair, Debrett's – London, Kutir – Chelsea, Lucky Cat – Mayfair.
Featuring: The Devonshire Club – London, Kanishka – Mayfair, Wild Honey – St. James's, Aviator – Farnborough, Tredwells – Seven Dials, The Swan at Southrop – Gloucestershire.
Featuring: The Harrods Tea Rooms – London, The Ox Barn at Thyme – Southrop, The Woodsman – Stratford-upon-Avon, The Wild Rabbit – Cotswolds, Seven Park Place by William Drabble – London, The Cliveden Dining Room – Taplow, Belmond Le Manoir aux Quat'Saisons – Great Milton.